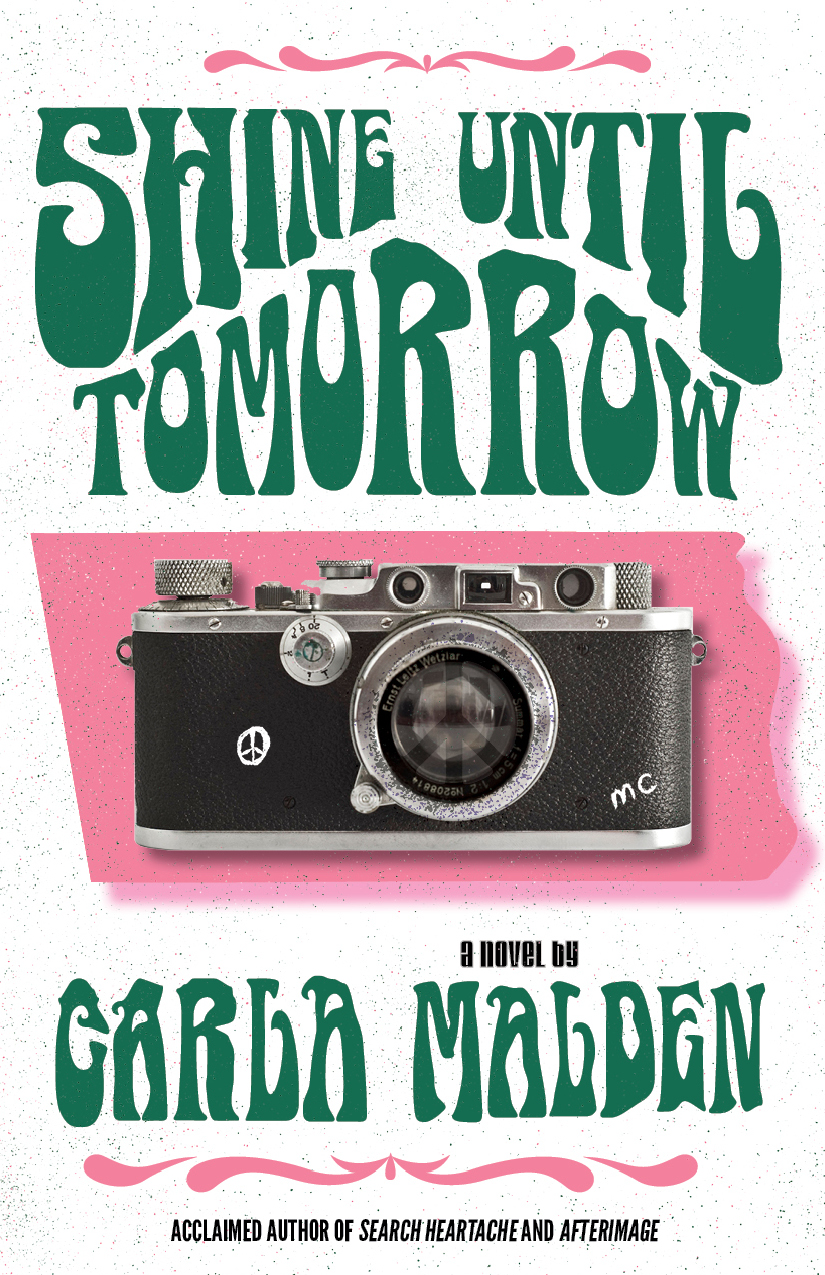 Shine Until Tomorrow
A Young Adult Novel
Shine Until Tomorrow is a time-travel tale that takes its troubled teenage protagonist from present-day San Francisco back to the "Summer of Love" in 1967.  A fun and touching novel about the people who raise us, the times that define us, and the stumbling blocks along the way, it tells the story of a girl obsessed with the future who must visit the past to learn to live in the present.
Coming in January 2021
Shine Until Tomorrow Synopsis
Social misfit Mari Caldwell desperately wants to get on with her life and get out of San Francisco. If only she could get there faster – specifically to Yale – and leave behind all the things that make her anxious: driving a car, crossing bridges, her peers, her parents' divorce. Mari only feels at ease behind the lens of her vintage Leica. Her camera keeps the world – and the people in it – at a safe distance.
When Mari comes across an old scrapbook of her mother's, she discovers that her white collar parents were once blue denim hippies. She ends up fighting with her mother and storming out. She pedals her bicycle into a downpour, swerves to avoid an oncoming jeep, and flies smack into a tree. In a daze, Mari climbs into an old, abandoned VW van bearing the ghost of a psychedelic paint job, and passes out.
The next morning, Mari wakes up to the sound of music. A young couple wanders through the glen like hippie gypsies, playing recorder and tambourine. Mari accepts their offer of a ride into San Francisco. But something is wrong; Mari can't quite figure out what. The skyline, her father's address, the music on the radio. Everything is slightly off. Except JIMMY — the driver of the van. There's something about him that calms her inner chatter. Only after she says good-bye to the merry band and runs headlong into a war protest does Mari begin to realize: it is June, 1967.
In the epicenter of the Summer of Love, Mari makes friends with the would-be rock band, meets the grandfather she never knew, and falls in love. In spite of herself, Mari discovers that love changes everything. It even changes her.
A fun and touching novel about the people who raise us, the times that define us, and the stumbling blocks on our way to being a grown-up, Shine Until Tomorrow tells the story of a girl obsessed with the future who must visit the past to learn to live in the present.
Maura Fielder looks like she has the perfect life: every expectation fulfilled. But under the illusory surface of perfection, Maura finds herself blindsided by what she discovers on her husband's computer. She has no emotional cubby hole into which she can shove this ghost from her husband's past, so instead, Maura upends her life―thrashing her marriage, alienating her daughter, and eroding her own moral center. On the verge of sacrificing everything she holds dear to her own obsession, how does Maura manage to regain her equilibrium and reclaim her life?
In this post-privacy new world, any woman can find heartache if she searches hard enough.
Praise for Search Heartache
"Using a computer to make yourself feel bad is a relatively new phenomenon. Search Heartache deals with that phenomen in the context of love, privacy and the vulnerability of relationships — perhaps some day professionals will call that the Search Heartache Syndrome. But that is only a small part of what this book has to say and why I highly recommend it.
I did not race through this book as you do with the sort of plot-only books that inhabit the best seller lists. Rather, I enjoyed each chapter as if it were its own short story, with its own cast of characters, plot twists, and satirical insights about contemporary life — mostly Los Angeles, but also London. All written with pathos and humor. This is also a book for readers who appreciate the fine art of writing." Rebecca H.
Search Heartache is a women's literary fiction piece that stands out from the crowd. It presents the life-changing revelations of Maura Fielder, who stumbles upon her husband's secret on his computer. This leads her to confront everything she's taken for granted in her approach to life.
Many similar-sounding books have tackled divorce, infidelity, and changing relationships between men and women, but what sets Search Heartache apart from these stories is Carla Malden's attention to exploring the intersection of computer lives and real-world heartache, adding an unexpected humor that permeates an often-surprising story of life, death, love, and discovery. Another plus is that this story will reach beyond women readers and into male audiences who will find it astute and accessible, offering many insight and much food for thought.
Irony and a wry sense of fun flavor Maura's observations from the start as she interacts with husband Adam in their Los Angeles milieu: "Adam didn't answer. He was watching a promo for the new Ken Burns documentary. This time out: the Dust Bowl. They were hyping it as the worst manmade ecological disaster in history. "I wonder if that's true," Adam said. "What?" "About the Dust Bowl." "People thought it meant the end of the world," I said, uninterested. "Maura, people always think everything means the end of the world."
"It's blowing right on me," I said. "Would you turn off the air?"
From the nightmare she uncovers about her husband's obsession after she snoops through his secret online life to how she handles her discovery and assesses its impact on their relationship's history and values, Search Heartache excels in revealing not just the immediate problem at hand, but also capturing the types of connections that either bind a married couple or tear them apart: "My marriage was supposed to be like that Buddhist adage about hands—how we have a right hand and a left hand and they never fight or take credit. The left hand doesn't say, "I wrote that word." The right hand never says, "I turned that page." They simply help each other. When one hand is injured, the other takes over. My marriage was like those hands, intertwined so that sometimes you couldn't even tell which finger belonged to which hand. But this morning, I was the hand that stirred the oatmeal, and Adam was the hand on the mouse of the computer, and they were bodies apart."
As new revelations, connections, and choices drive Maura into another life entirely, fraught with both challenges and promise, readers of women's literature will find this story a powerfully drawn psychological drama that is compellingly realistic. This authenticity is powered by Carla Malden's ability to juxtapose real life backdrops and events with an acknowledgement of the lasting impact of these choices: "Adam may have lit the fuse, but I was the bomb who exploded."
Search Heartache is a gripping first-person story that does an outstanding job of probing the evolution of love, change, and choice. It reveals many mercurial points of view before coming full circle in an unexpected and satisfying way, and will delight fans of women's fiction and literature who will find in Maura a powerful character whose dilemmas are at once challenging and, in an ironic manner, fun.
Whether Search Heartache is chosen as a beach read or a more thought-provoking work of literature, it's a tale that will linger in the mind long after its final revelations.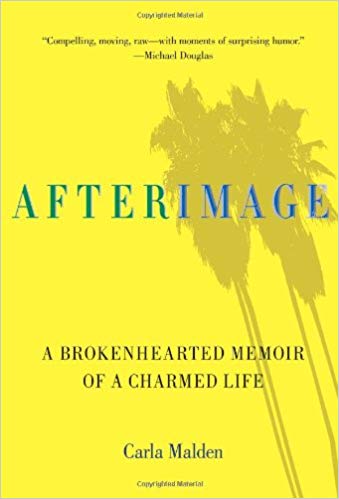 AfterImage: A Brokenhearted Memoir of a Charmed Life
Non-Fiction
In this fiercely personal account of her battling the before, and surviving the after, of losing her husband to cancer, Carla Malden takes us on a journey through grief to gratitude that alerts the entire forever-young generation: this is not your mother's widowhood. AfterImage is a story of love more than loss, memory more than sorrow, life more than death.
"I've spent my professional life telling stories. AfterImage does exactly that and touches us where we live. It is compelling, moving, raw―with moments of surprising humor. I try to leave my audiences with meaningful and enduring images from my movies. That's exactly what Carla Malden achieves with her newest book."
"Carla Malden traces the awful journey of her young husband's illness and death with such precision and care, expressing the emotion between the exhilaration of hope and the darkness of reality so powerfully, that her eloquence turns grief into poetry and enlightenment."
"Carla Malden's memoir about her husband and screenwriting partner Laurence Starkman is a haunting story of love and loss, and a demonstration of the courage required to put a broken life together again."
"All I can say is WOW! I read for a living [and] never has one made me cry until I read this manuscript. Although this is a book that will tug at your heart, it is like the tug on a fishing line when you know you've got a big one. I can't wait to share it with others. This is more than a book, it's a blessing for anyone who reads it."
"Emotionally raw from start to finish, the story . . . also celebrates a rare and profound love that transcended death. A brutally candid memoir of the 'all-consuming and profoundly uncomplicated' power of grief."
When Do I Start?
Non-Fiction
For an actor who loved the work, the burning question was always "When do I start?" In his autobiography, written with daughter, Carla, Karl Malden recalls a life begun in a steel town that took him to the presidency of the Academy of Motion Picture Arts and Sciences, with all the humorous and poignant stories of stage and screen along the way.
Praise for When Do I Start?
"This memoir is a peripatetic selection of Malden's enounters with larger-than-life Broadway figures… like Kazan, Strasberg, and Brando. The 1950s were Broadway's heyday but also the time of blacklisting, and Malden paints a vivid picture here of those times. Moreover, the actor eschews the 'down-and-dirty tell-all memoir' so common now to offer his views on the various acting techniques and methods he came upon. Recommended."
"I have always admired Karl Malden for his mastery of the English language. Is there any actor who ENUNCIATES more effectively than Mr. Malden? I can think of a couple of other popular American actors who could use subtitles to compensate for their incessant mumbling. To read this book is to find the same clarity we find in his movies! And how his language flows! He is also clearly a man with tremendous kindness and integrity. While Malden was filming Streets of San Francisco, I was privileged to take a couple of calls from him as he consulted with my boss on a certain matter. He was so very dignified and polite. His wife was very pleasant too. What a truly rich and full life he led interacting with other stars which he describes in insightful detail!"